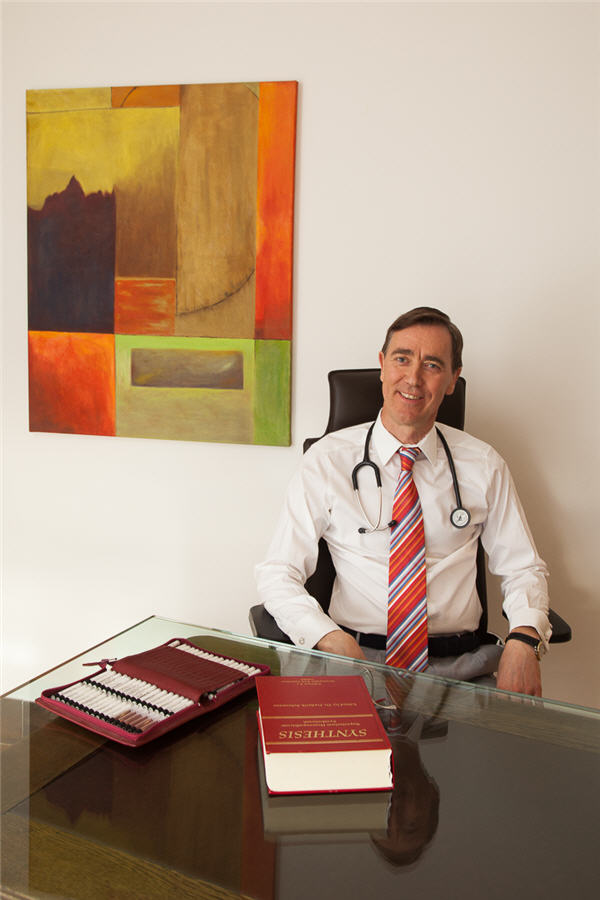 The medical and philosphical doctor Stefan Joseph Dehmelt, qualified from Hamburg University, Germany, in May 1995.
After initially working in Gynaecology/Obstetrics, Dermatology, General and Plastic Surgery in Guadalajara, Mexico, he continued his university medicine career in neumology, endocrinology, gastroenterology, infectious diseases and allergology, in emergency medicine, psiquiatry and psicosomatic medicine.
Dr Dehmelt subsequently attained specialist qualifications in General Practice (GP) and Internal Medicine in Germany, Austria and London.
He also specialized in anthroposophic medicine in specific hospitals in Germany and at the ¨Goetheanum¨in Switzerland and studied for 3 years at the academic course in Homeopathy at the Royal London Hospital of Homeopathy with specific degrees there.
Dr. Dehmelt worked on his medical doctoral thesis (PhD) in the Institute of Endocrinology and Reproductive Medicine and completed with ¨cum laude. The intense work marked a holistic view taking in consideration somatic, psychological and social conditions. It motivated an integration of psychodynamic approaches and methods of reducing stress in the consultations of infertile couples. Very often this helped to improve the preparation of the treated couples and the outcome of the treatment to conceive "naturally".
Especially working with the head of university departments, Prof.Dr.H.G.Bohnet, Gynaecology, Fertility and Endocrinology and Prof. Dr.Dr.J.Ring, Dermatology and Allergology was a wonderful learning experience in his specialist training. It fundamentaly influenced the medical post graduate specialist training of Dr.Dehmelt and formed his diagnostic and therapeutic views by integrating natural medicine into university based allopathy.
Music and contemplation to flowers has always been the personal remedy for Dr. Dehmelt to keep his personal stress level in balance and to develop new ideas.